Responsible Travel
The more thoughtful and well intentioned your choices are,
the more satisfying your journey will be.
Africa: Gorilla Conservation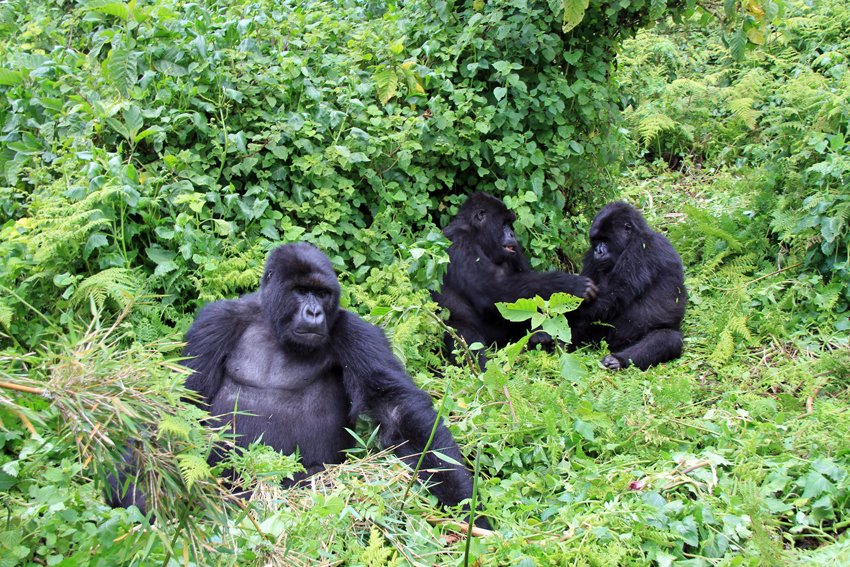 by Sue Watt                                                                                        All   Photos © Will Whitford
Africa captivated me the first time I set foot on the continent, 15 years ago to climb Mount Kilimanjaro. Its myriad landscapes of dunes and desert, endless beaches, vast golden savannah, steep escarpments, dramatic mountains and lush rainforests never fail to take my breath away.
The wildlife fascinates me too: that first glimpse of majestic mountain gorillas watched over by the dominant silverback, the huge herds of elephants, young and old, and prides of lions prowling the plains. Or the dazzle of zebra and wildebeest in a frenzied rush to cross croc-infested rivers in search of better pastures. And then there are the little things, such as impala and warthogs, even snakes and vultures. They're all part of the rich circle of life that makes this continent so magical.
Yet Africa is much more than this.
People power
It's a continent of more than one billion people and some of my most memorable moments have been with them. Times like the blessing ceremony that a local village gave us before we climbed Gorongosa Mountain in Mozambique, when we all shared wine from a communal tin mug.
I've learned about school life from teachers and pupils in Zambia and Zimbabwe, about weddings and warriors with Kenya's Samburu tribe, and about the constant struggles of living alongside the wildlife from communities that surround national parks and reserves.
Tourism and conservation intertwined
The survival of mountain gorillas is one of Africa's greatest conservation success stories. They live in the verdant rainforests of Rwanda, Uganda and the Democratic Republic of Congo. People often write about "the last remaining" gorillas as if they were in a spiralling decline – in fact, their numbers have increased almost four-fold since conservation efforts began in the 1970s, from around 250 to nearly 900 today. And tourism has been a major factor in this success.
Tracking gorillas is the ultimate wildlife experience. Seeing them interacting as a family, just like humans, is extraordinary, with the big daddy silverback keeping an eye on them, mummy nurturing the babies, and frolicking toddlers tumbling all around you. I have been fortunate enough to have tracked gorillas on four occasions, and it blows me away every time.
Tourism brings in the money for their conservation – with permits costing US$750 in Rwanda and USD$600 in Uganda, your permitted hour with the gorillas isn't cheap, but the experience is priceless.
In towns surrounding the gorilla tracking centres, like Musanze (formerly Ruhengeri) in Rwanda and Buhoma in Uganda, communities benefit hugely from the income that tourism and gorilla conservation bring in. But life is still tough here.
How our primate cousins can help people
The surrounding communities have their own fascinating cultures and stories to tell, and these need preserving too. That is where tourism can help. Gorillas draw the tourists to these incredible areas, yet all too often visitors come to see our cuddly primate cousins and then leave without engaging at all with local people.
I would urge anyone going gorilla tracking to visit community projects, to get a deeper, more meaningful experience – to see the bigger picture. A huge number of companies offer gorilla tours – choose one that includes village visits and you'll find the whole experience so much more worthwhile, and you'll be helping support local people. A good place to work through the maze of options is www.safaribookings.com with reviews from previous travellers.
Below are projects I've visited that include community visits.
Bwindi Impenetrable National Park and the Batwa
Uganda's Bwindi Impenetrable National Park was formed in 1991 to protect gorillas, but they weren't the only residents. For 4000 years, the Batwa tribe had lived in its forests, but they were evicted, becoming "conservation refugees" with no land rights or compensation.
Historically dubbed 'pygmies' (a term no longer used due to its perjorative connotations), the Batwa were unprepared for life outside the forests. With no formal education or employment prospects and no support in their new environment, they were stigmatised and excluded, leading to homelessness, malnutrition and alcoholism.
In 2000, an American doctor, Scott Kellerman, concluded that their average life expectancy was 28 years, and four out of 10 children
would die before their 5th birthday. The Batwa – and their unique knowledge of the forests – were dying out…
Kellerman built the Bwindi Community Hospital, along with schools, homes and health clinics, and developed income generating projects for the Batwa community. The Kellerman Foundation (www.kellermannfoundation.org) offers various volunteer placements in health care and community development.
You can help while you're on holiday by visiting the Batwa Cultural Experience (www.batwaexperience.com) in a forest bordering the national park, which Kellerman and the Batwa developed to preserve their extraordinary culture.
It's a fascinating project: a chance to see the Batwa's former forest life in an experiential way that no books or films could convey. When we visited, we spent a morning in the forest with community elders, learning about their medicinal plants, their food and their forest secrets. We even hunted with them, shooting with a bow & arrow (at a wooden model of an antelope, not the real thing!)
Dressed in traditional goatskins and bark-cloth, they showed us homes in treehouses, took us to their shrines and told us their ancient folk stories, with singing and dancing that sent shivers up my spine.
Akin to a living museum, the project brings vital income to the Batwa, as well as a new pride in their culture. And it isn't just for tourists. Batwa children also come here to learn about their heritage – many had never even set foot in the forests before the project began – and their past way of life is now preserved in their memories.
Volcanoes National Park and Rwanda's rural communities
Rwanda's beautiful Volcanoes National Park is home to some 400 gorillas and the main town for tourism, Musanze, is thriving. Indeed, Rwanda as a whole is slowly moving on from its horrific genocide in 1994, developing into a more reconciled, modern and forward-looking nation. In the aftermath of the genocide, however, it was the world's poorest country, and many Rwandans still live in poverty today.
Around Musanze and Kinigi, the Park HQ, various community projects are benefiting from close connections with tourist lodges. They include the Iby'Iwacu Cultural Village, (www.cbtrwanda.org), with accommodation for low- to mid-range budget travellers, which employs former poachers in agriculture, bee-keeping and tourism.
We stayed at Sabyinyo Silverback Lodge (www.governorscamp.com), owned by the Sabyinyo Community Livelihood Association (SACOLA; www.sacola.org). It's an upmarket lodge that has raised around US$1.5 million through gorilla tourism in the nine years since it opened. The money has benefited some 52,000 locals; funding a cultural centre, new homes, educational scholarships and employment opportunities.
© Sue Watt has been travelling to Africa for 15 years and strongly believes that tourism must benefit communities and conservation. She is a regular contributor to Travel Africa magazine and is frequently published in UK national broadsheets and magazines including The Independent, The Times and Wanderlust. She co-wrote Footprint's Tanzania guidebook in 2009; and is a major contributor to Bradt's Namibia Guide 5th edition and Zambia Guide 6th edition. Her travel articles have also been widely published in Australia. Her articles can be seen at www.suewatt.co.uk.
Please follow and like us: