Volunteer
A passport can help change the world
Where do you want to volunteer?
We welcome interest from people wanting to volunteer for us in Melbourne, Australia, or at our partner organisations overseas. If you want to help us out here in Australia, see the link below for more information. If you are interested in a unique and very memorable experience volunteering in Zambia or Sri Lanka, see also the links to those pages below.
RoundTrip links volunteers with our partner organisations – we do not run volunteer programs overseas ourselves. However, we can give you plenty of information about the experience, what to expect and how you can make a difference. We can then put you in touch with the right people on the ground for more info and to make the necessary arrangements.
Check out these articles on Voluntourism and Responsible Volunteering in Africa for some very useful insights, and for advice on volunteering overseas.
If you prefer something more formal we recommend the Australian Volunteers Program (open to Australian citizens only). It offers diverse opportunities in countries around the world but especially in the Asia Pacific region. Volunteers are given training, local language tuition and a stipend to cover expenses.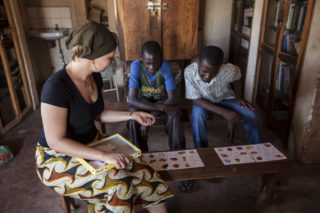 Going overseas to volunteer soon?   Need to book flights?
If you've decided on your volunteering adventure then it's time to book your flights! The earlier you book the better the deal you often get. As you wade through the sea of online travel sites, consider checking out STA Travel. Their prices are very competitive and because of a partnership agreement between RoundTrip and STA, we receive a donation from STA with every booking.
Simply remember to use the code #AA016 when making your booking. Contact STA via email: academicalliance.au@statravel.com or phone: 1300 675 435 or simply drop into a branch. So, organise your travels and begin giving back before you've even left home!