Responsible Travel
The more thoughtful and well intentioned your choices are,
the more satisfying your journey will be.
Caribbean Leatherback Turtles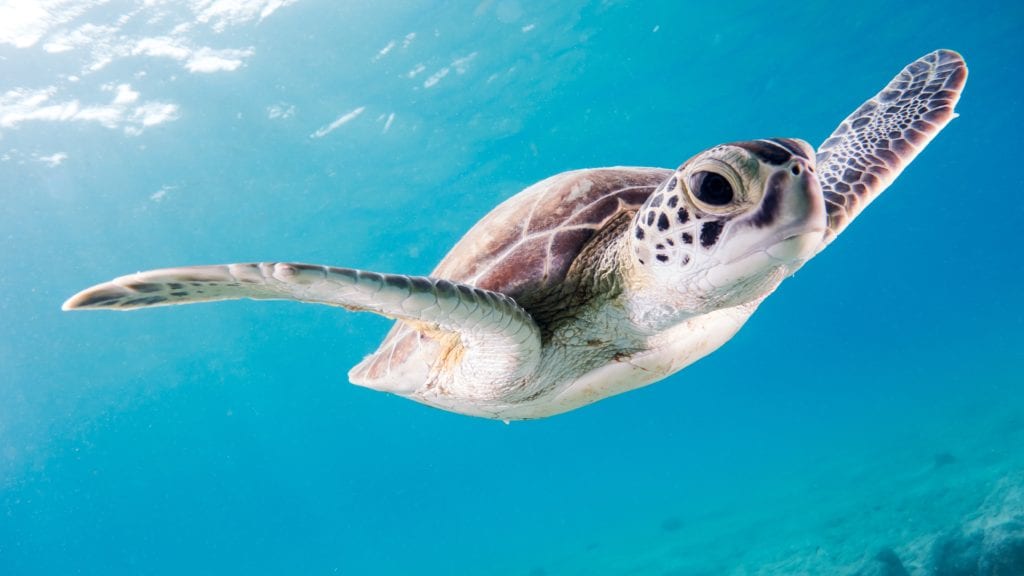 by Lizzie Williams
With the only light coming from shafts of semi-moonlight glistening off the foamy whitecaps of the waves, my eyes attempted to adjust to the darkness on the beach as I stumbled through the sand in the tracks of our guide. And then just metres away I thought I saw one, and then another, and was that three? Our guide pointed further into the gloom and our little group soon realised that the beach was dotted with huge, rounded, blackish and slow-moving shapes. They were leatherback turtles, which had silently emerged from the waves in the dead of night to nest and lay their eggs in the sand.
Leatherbacks are the world's largest turtle and adults weigh 250kg to 900kg, with a flipper-to-flipper measurement of 1.8m to 2.2m, and inhabit all of the world's oceans (with the exception of the coldest waters around the Arctic and Antarctica). Unlike other turtles, which have bony shells, they are covered with an inky-blue, leathery flesh (hence the name). After hatching on land and heading immediately into the water, males spend the rest of their lives at sea, while females come ashore again only to lay eggs.
To witness this extraordinary event, I had journeyed to where the Atlantic and Caribbean currents collide in the passage between Trinidad and Tobago. The broad, steeply sloping beach at the tiny village of Grande Riviere on the remote northeast coast of Trinidad is believed to be the world's second-largest leatherback nesting site, after only Gabon in West Africa. It gets its name from the river that runs through the village to meet the sea, and it's the currents from this river that give these giant turtles that extra push up on to the beach of coarse, quartz-rich sand.
Leatherbacks can get disoriented by light and usually only emerge from the waves in the dark, so our turtle-watching excursion, arranged in the village, was also late at night. But our guide – and the local tagging and monitoring team – had infra-red torches and carefully escorted us closer to one female so we could watch unobtrusively as she nested. After diligently kicking back the sand with her huge flippers to make a comfortable hole, she began to lay her eggs. During this laying process, the mothers go into a slight trance, so while we watched fascinated and peered into the hole, the monitors very gently slipped a tag through the edge of her flipper, while another counted the eggs. Females can lay 60 to 100 eggs per session, or 'clutch', and during a single season, each turtle can nest several times at intervals of eight to 12 days.
After she had finished and was flipping back sand to cover the hole, our guide pointed out her realistic-looking 'turtle tears'. Legend has it that these mothers cry for their unborn young, but in fact it's a shedding of salt to protect their eyes. Still, this dampness in her eyes made her look so sad as she started her shuffling manoeuvre back to the ocean, disappearing into the waves and leaving her potential babies beneath the sand.
What is most astounding about this process is that female leatherbacks travel the oceans of the world but always come back to the same beach where they themselves were born to lay their own eggs. Our guide recounted a tale of a tagged turtle that hatched in Grande Riviere and was later seen in Madagascar. But after reaching sexual maturity and mating, she returned to lay her eggs back in her birthplace in Trinidad. That is an extraordinary sense of direction, as well as a timeless 'family tradition'.
Grande Riviere's nesting season runs from March to August, and during the peak months of April and May, between 300 and 500 turtles come on to the beach each night. As the season winds down from June to August, fewer females come ashore, but as incubation is 55 to 65 days, this is when the eggs begin to hatch and hundreds of miniature baby leatherbacks ('hatchlings') can be seen bubbling out of the sand and instinctively, and awkwardly and adorably, scurrying towards the ocean.
Threats and opportunities
While once the Caribbean supported populations of sea turtles that numbered in the millions – 17th- and 18th-century mariner records document densities so great that the movement of ships was curtailed – numbers have dropped dramatically. Worldwide, there's thought to be only about 34,000 to 36,000 nesting females in total (it's impossible to count the males as they are rarely seen). Natural predators include sharks (they are soft to munch through, after all), but it's human-related hazards that have led to the leatherbacks' Critically Endangered status. They can get caught up in fishing nets, struck by boats or poached for meat (known as 'beef of the sea' in some communities); nesting beaches have been eroded or polluted (and in some places in the Caribbean developed with hotels, providing too much artificial light); and turtles can ingest floating plastic debris, which they often mistake for their favourite food, jellyfish.
Grande Riviere is a tiny village, but its residents have realised that they are home to an extraordinary natural event and are passionate about protecting the turtles, not just for the sake of the creatures but also as a way to benefit and sustain their own community. An agricultural settlement established in the 1860s by immigrants from Tobago and Venezuela, from 1910 Grande Riviere had a brief economic boom thanks to a cocoa estate in the village. But this closed as the cocoa industry declined from the 1930s and the village struggled economically through most of the remainder of the 20th century. Many residents left to look for work: between 1931 and 2000 the population fell from 718 to just 334.
But thanks to the leatherbacks, Grande Riviere's little economy is experiencing a turnaround. It began in 1992 when a community-led conservation group, the Grande Riviere Environmental Awareness Trust (GREAT),was established withfunding from the United Nations Development Programme. It aimed to protect the nesting leatherbacks and stop the local slaughter of turtle meat. Then, in 1994, Italian photographer Piero Guerrini rented the former cocoa estate headquarters and converted it into the 13-room, beachfront Mt. Plaisir Estate Hotel. This provided visitors with a place to stay and created direct employment, as well as spin-off jobs like farming to supply the hotel's restaurant. In 1999, GREAT became the Grande Riviere Nature Tour Guide Association (GRNTGA), adding a focus on turtle-watching tours.
Over time, word got out about the remarkable spectacle of the nesting turtles, and today Mt. Plaisir Estate Hotel has been joined by three other simple guesthouses, while villagers also rent out rooms in their homes. An estimated 15,000 foreign and local tourists visit each year and the community has visibly been impacted for the better – many jobs have been created and the population has even increased (now around 500) as people from neighbouring villages have to come to Grande Riviere in search of employment.
Turtle-watching, however, is a seasonal activity, so GRNTGA now provides tour guides for other year-round attractions, such as waterfall, river and nature trails in the Northern Range mountains at this tip of Trinidad, and tours to find another unique and critically endangered resident, the pawi or piping-guan, the only bird species endemic to Trinidad.
Money generated from guide fees, permits and donations continue to safeguard the leatherbacks. Funds are used to employ staff to keep people off the beach between 6pm and 6am, to record sightings and nests, to move eggs and rebury them away from the high-tide line, and to assist wayward turtles and hatchlings back into the ocean. Additionally, GRNTGA runs a conservation education program for students from Trinidadian schools from its visitor centre in the village.
The transformative power of eco-tourism
The presence of the leatherback turtles has helped Grande Riviere tremendously, transforming it from a poor, rural village into a vibrant, self-sustaining community.Watching these enormous, prehistoric (really – they are as old as the dinosaurs) sea creatures haul their immense girth from the depths of the ocean to lay scores of eggs in the sand is nothing short of amazing. But it's also in the best interests of the villagers to provide long-term care for the turtles, creating a rare balance in a place where people and nature live side-by-side and eco-tourism is used to benefit both.
On my final day in Grande Riviere, my lovely guesthouse owner woke me at 5am to look at the beach. Wondrously bathed in the first light of dawn, two latecomer turtles were slowly inching back through the sand to their watery home in the ocean, hopefully content that they had created a new generation of leatherbacks. It was a magical, magical moment.
This is my story, but it's told even better by Sir David Attenborough in episode seven of Blue Planet II. He sits next to the turtles on this very beach at Grande Riviere and introduces Len Peters, one of the founders of GRNTGA. It's also where he bids a touching farewell to a hatchling and says those emotional words: 'Good luck, little leatherback…'
More information
Grande Riviere Nature Tour Guide Association (GRNTGA) (+1 868-469-1288, see Facebook). Grande Riviere is 118km from Trinidad's capital, Port of Spain, and 85km from Piarco International Airport.
Turtle Village Trust (www.turtlevillagetrust.org). This is the umbrella organisation for all leatherback, green and hawksbill community-driven turtle conservation bodies operating in Trinidad and Tobago; contact in advance to organise responsible turtle-watching services.
Originally from the UK, Lizzie Williams has been exploring and writing for more than two decades after starting out as an overland tour leader on trips across Africa and the Middle East. She has now authored and contributed to more than 60 guidebooks for Footprint, Bradt, Rough Guides and DK Eyewitness among other publishers. Destinations (and numerous road trips) have covered East and southern Africa, Turkey, Egypt and many islands in the Caribbean. Lizzie also regularly contributes to travel magazines and websites, and when not on the road, counts herself lucky to call beautiful Cape Town home.