Responsible Travel
The more thoughtful and well intentioned your choices are,
the more satisfying your journey will be.
Cultural Tourism in Tanzania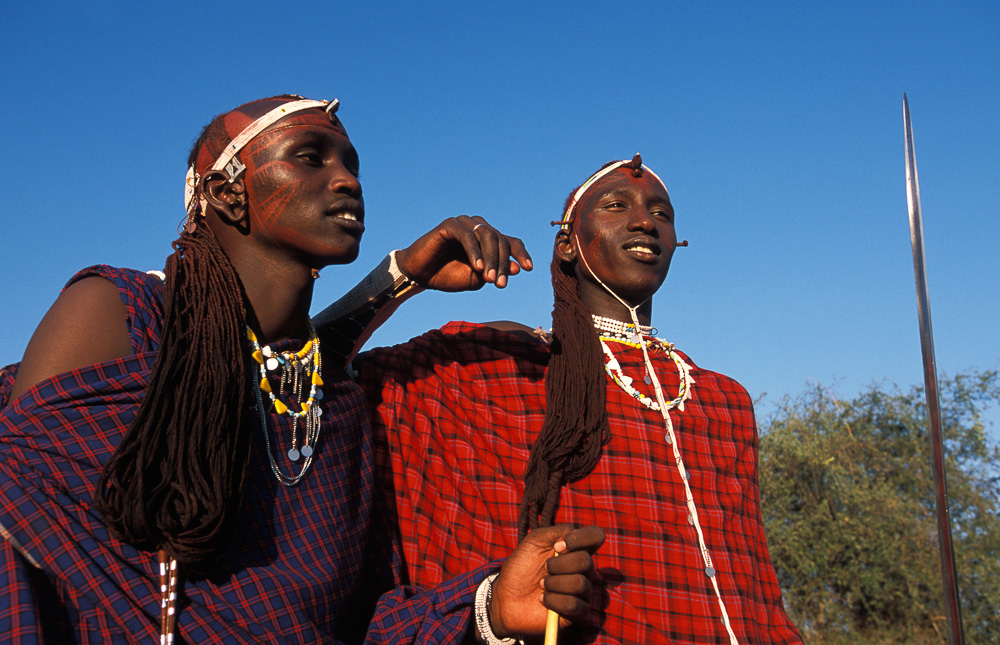 by Ariadne van Zandbergen
Tanzania is one of Africa's main tourist destinations, thanks to its incredible wildlife, great natural beauty, smooth tourist infrastructure and generally stable politics.
Safaris and beaches are the top attractions in Tanzania. The main aspect of cultural tourism – meeting local people, whether informally or through an organised program – tends to be an afterthought for many tourists. So how do you best arrange a valuable cultural interchange as part of a tourist itinerary? How do you ensure it is done responsibly? And is there a danger that visitors on an organised cultural encounter will see the local people as just another exotic tourist attraction?
Tourism or travel?
Independent travellers spending months on the road usually get many opportunities to mingle with local people in an unforced, natural way. Staying in family-owned guesthouses, using local public transport and sharing food are all part of the independent travel experience.
It is not as straightforward for tourists on a short organised holiday. Time is limited and a strict itinerary needs to be followed, which makes it easy to leave Tanzania without speaking to any local people, other than professional guides and hotel staff.
In order for tourists to experience or learn something of the local culture, a more organised approach is usually beneficial – otherwise the interaction between tour groups and local communities can easily become contrived and even borderline voyeuristic.
Maasai vs tourists
Many tourists on safari in Tanzania are offered a Maasai village visit. This is usually a quick, convenient stop in the Ngorongoro Crater conservation area en route to the Serengeti. The experience is often written off as fake, touristy and commercial. This is hugely unfair. There is nothing fake about these Maasai villages. They've always been there and their inhabitants still live a largely traditional lifestyle. Being able to get a glimpse of that – for a fee, certainly – is a privilege. The fact that the Maasai on the tourist route have shown some entrepreneurial spirit doesn't make them fake or less 'village-y'. But the kind of interaction inherent to a pit-stop tour is often disappointingly superficial and formulaic, as the women anxiously try to sell their beadwork before a cursory dance is performed and the visitors are sent on their way.
Project Tembo
Travellers and tourists with a bit more time can experience a more satisfying interaction at Longido near the Tanzania–Kenya border. Tembo, a charitable organisation, has a program there focusing on education – and girl's education in particular. A basic but comfortable guesthouse caters to the volunteers involved in the program. Tourists wanting to learn more about Maasai culture can drop in for a day visit at any time and, space permitting, they can stay in the guesthouse as well.
Fascinated by these proud people, and how they manage to live a traditional lifestyle while surrounded by Western modernisation, I visited Longido some years ago in the hope of being taken out to a less 'touristy' village at the base of Mount Longido. A Maasai guide, speaking fluent English as taught by the volunteers, took me out for the day. We walked for hours in the scorching sun to reach a manyatta (Maasai homestead), but many of the family members were out visiting another manyatta for a male circumcision ceremony. I learned that it was in fact the season for these ceremonies and I was invited to one for the next day.
I ended up staying for a week, visiting several villages and attending three ceremonies, including one female circumcision ceremony. Although illegal in Tanzania, female genital mutilation is still a common practice here, and one of Tembo's goals is to educate girls on their rights in this matter.
I spent my last day at the big weekly cattle market. Many of the villagers I had met during my week came to the market to sell or buy livestock, to chat and catch up with family and friends, or just to charge their mobile phones at a power point. This was a great opportunity to say my goodbyes. The Maasai had inspired me with their resilience and generosity. My guide confided in me how I had inspired the young girls with my Western female independence.
I spent some time browsing the market for a souvenir. In contrast with the villages on the tourist trail, there was no jewellery for sale. Aside from cows and goats, there was a good choice of plastic containers, batteries, shukas (Maasai blankets) and second-hand clothes.
Then I spotted an old woman selling some calabashes (bottle gourds) decorated with beautiful beadwork. I asked her the price and was told 10 cents. After insisting for some time that this could not be right, I suddenly realised our misunderstanding. Local people pay for the fermented milk inside the container, returning the calabash at a later time, and she assumed that I wanted to do the same. Once I explained I was interested in the calabash itself, we easily came to an agreement. That calabash, still smelling vaguely of sour milk, now adorns my home as a physical reminder of the huge privilege I had in getting a glimpse of traditional Maasai culture, which remains resilient in essence, but also changes with the times.
Tourism and the human touch
Of course, spending a week in a Maasai village is not everybody's idea of a holiday. But for tourists enjoying Tanzania's idyllic beaches and world-class safari parks, adding a cultural experience could make their trip that much more fulfilling and educational. And such experiences should not feel awkward or contrived. There are good operators and community organisations that strive to ensure their cultural tours are beneficial to all parties.
However, there are many tours on offer and it is often hard to separate the wheat from the chaff. Community projects – where community members put in the work and the money made is used for the good of the broader community – are usually worth supporting. Often with initial help from an NGO or charity organisation, these projects aim to become self-sustaining. Essentially, this is direct business for the community, which is both healthy and much needed in Africa.
Other cultural programs are offered by specialist operators. In these cases, it is important that the community receives fair remuneration for its involvement. Ideally, this is done in a structured way, such as proceeds going towards the building of a school or clinic for the community. Where these structures are in place and working well, you will find the whole community supportive of the program and this will be evident in your interactions with the people.
Here are some organisations I can personally recommend, both for their integrity and the quality of their programs. They offer anything from a half-day to multi-day activities.
Ariadne Van Zandbergen is a freelance travel photographer and writer who spends more than half of her time photographing and travelling in various parts of Africa, and has visited more than 30 countries across the continent. Based in South Africa, Ariadne's work has featured in numerous magazines, brochures, travel books and other publications. She operates The Africa Image Library (www.africaimagelibrary.com), a specialist photographic library dedicated to cultural, wildlife and other travel related images of Africa, both on and off the beaten track.